Study "debunking myth of moderate drinking" suffers from serious methodological problems, confounding factors

I have to apologize for being absent from your email inbox for a month. It's been for a good cause. Why? Read on.

Back in early April by
The Lancet,
published a study
that provoked
sensational headlines
among the general media proclaiming the definitive death of the "myth that moderate drinking can be healthy."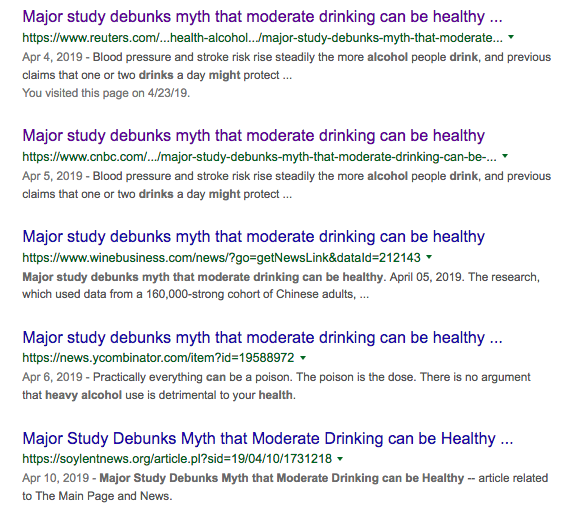 Since then, no one has emerged to take a look at the study to determine whether the headlines were accurate, the claims merited, and whether or not the study had been properly conducted.

Most of you do not know that I am a biomedical researcher. My college education is in chemistry, biology and physics. I've previously worked in those firlds.

I decided to put that research on hold order to devote time to fact-checking The Lancet article.

Two articles in this installment

The effort took me nearly a month because I needed to write two articles.

The first was to examine and document confirm every small scientific part of the original article.

The second is a supplementary article explaining the method0logy of the study.

My intent has been to write both articles in such a way as to be approachable to an intelligent non-scientist.

That latter goal has taken me the most time. The main article uses web links to cited sources which are far more readily accessible on the web instead of footnotes.
Indeed, as the author of 23 published books, I have been told by every editor and publisher I have ever worked with that each footnote in a book cuts readership by a half.

That's why this draft version is intended for a non-scientist. If merited, the main article will be condensed and footnoted for submission to The Lancet as a statement of concern.

The summary of the 4.578-word premium article is below.
---
The Mendelian Randomization by Millwood et al.: Observations and Expressions of Concern
Non-scientist draft - may be edited for scientific publication.
The
recent population study of adults in China
that found no cardio-protective benefits of moderate alcohol consumption should be re-examined in the context of methodological and confounding factors not addressed in the published paper.
Published in early April by
The Lancet,
the study provoked
sensational headlines
among the general media proclaiming the definitive death of the "myth that moderate drinking can be healthy."
The new study -- by a
unit of Oxford University
-- is remarkable for its parallel use of two different methods -- conventional epidemiology and
Mendelian Randomization
(MR) -- to re-analyze data from a large Chinese population study conducted from 2004-2008.
The Oxford study's conventional epidemiology method found a familiar "J-shaped" curve found in some previous studies.

By contrast, the MR method found no increased risk or benefit from myocardial infarction but increased risks of stroke -- both hemorrhagic and ischemic.

Accordingly, the study concluded that, "Genetic epidemiology shows that the apparently protective effects of moderate alcohol intake against stroke are largely non-causal. "

However, a close examination of the study, its supplemental materials and other data indicate methodological concerns including:
Flaws in the study's instrumental variable: The choice of the gene variants violate the exclusion principal -- a primary requirement for a valid MR
An invalid comparison between the results found between men and women
Failure to account for vast differences in tobacco smoking between men and women
Failure to correct for self-reporting/under-reporting errors in alcohol consumption when creating genotype-calculated categories for MR statistical analysis.
An over-stated extrapolation of results to all alcoholic beverages despite evidence that spirits was the overwhelming beverage of choice
Failure to control for contaminants found in Asian spirits
Defined "moderate drinking" as 100 grams of alcohol or less, yet emphasized the relative risks at an overstated median level of 280 grams per week which is substantially above moderate.
In addition, the study suffers from a widespread lack of needed citations/footnotes on a number of key assertions.
The study text fails to consistently draw a clear distinction from pre-existing Biobank methods and data and those developed and used by investigators in the present study.

However, the new MR study outcomes do merit consideration as additional data points among many other studies in this field.. Its conclusions fall within the same range of relative risk assessments as previous conventional epidemiological studies as illustrated in
this annotated chart
from a review article published in the British Medical Journal.
The remainder of this 4,758-word article -- AND a second one on Mendelian Randomization -- are available for Wine Executive News premium subscribers. who may Log-In Here:
Also in this article:
Not a Wine Executive News subscriber?
Subscribe to Wine Executive News now, and get the rest of this original article along with everything else on the site every day, including original documents, spreadsheets,and source materials for just $29.99 per month or $209 per year
---
---
---
New Subscriber Info
---
You can always contact me directly at: lewis.perdue@wineindustryinsight.com or by replying to this email.


When you sign up for premium, I always check to see if you are also getting the free News Fetch. If not, I sign you up so you will get the news quickly.


3 More places where you can find VIP premium content



Every article that contains premium content will usually be the top link in the daily News Fetch unless some monumental news bumps it to #2.
For your convenience and future reference, all of the News Fetch emails are automatically converted to web pages and can be found here:

NewsFetch Newsletter Archives

.


In addition, articles that contain premium content will also be in the "Features" category on the Wine Industry Insight web site.

Why 2 billing systems?
Because our billing company of the past nine years was bought by a company that does not accept American Express, we have had to change our subscription process, and the method of accessing premium content. (Here's more about that.)